After the fun in Part One, the trip continues:
Day Five – Matt the Monk!
Central Europe has not enjoyed the best of weather in 2016 and the forecast for today wasn't looking too promising. So again, like we did in Koblenz we headed for the town centre on foot. Initially I have to be honest and say that Trier, despite having such an ancient history was looking pretty ordinary…a collection of dull 1970/80's buildings.

Not the most inspiring of starts
But the closer we got to the centre of the town the more things improved, the bland turned to beautiful and the actual centre was stunning with an ancient Roman gateway and the heavily restored High Cathedral of St. Peter. The place has a few claims to fame and apart from being the oldest town in Germany it is the birthplace of Carl Marx. I think he easily the funniest of the brothers…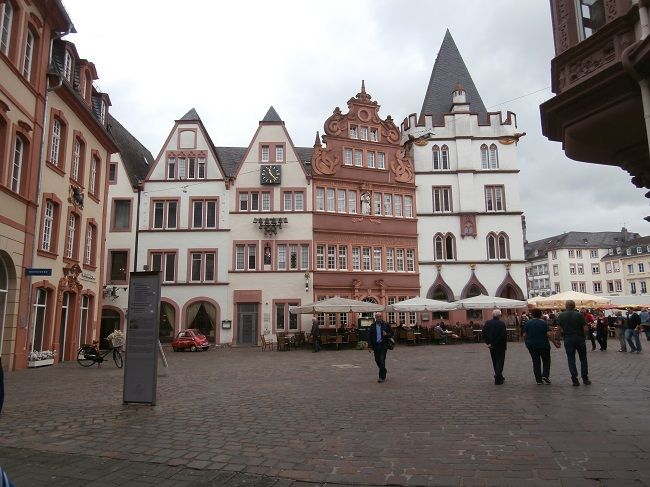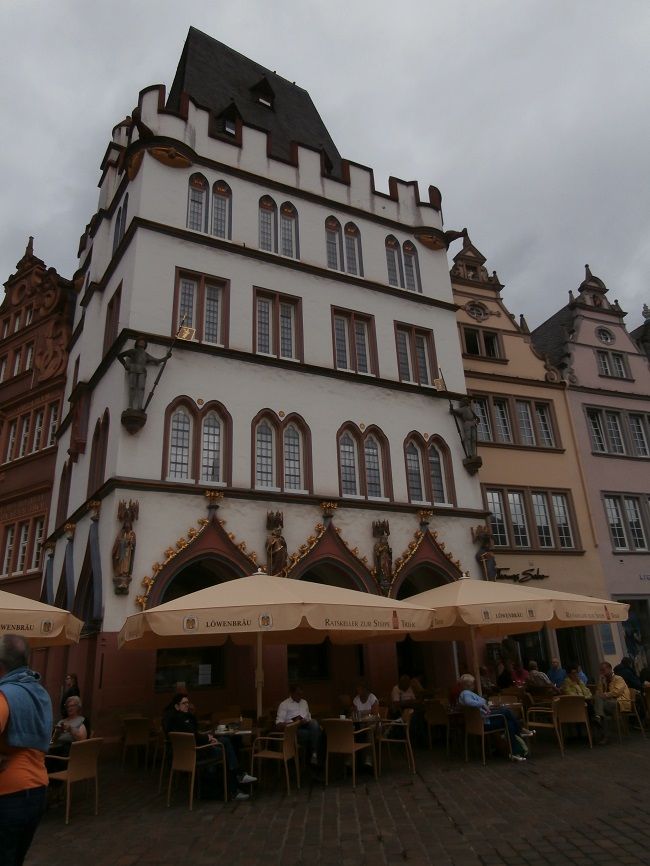 But it soon improved!
The town has spectacular central square so we chilled out here for a while before we went for a wonder. Much to the delight of Matt and Geeg in particular we found a 'snaky train' that was doing tours of the historic and interesting bits of Trier. Geeg and Matt leapt aboard while Andy and I examined the 'Loco' to found out what car it was based on…I am a sad act. It was a Nissan Patrol…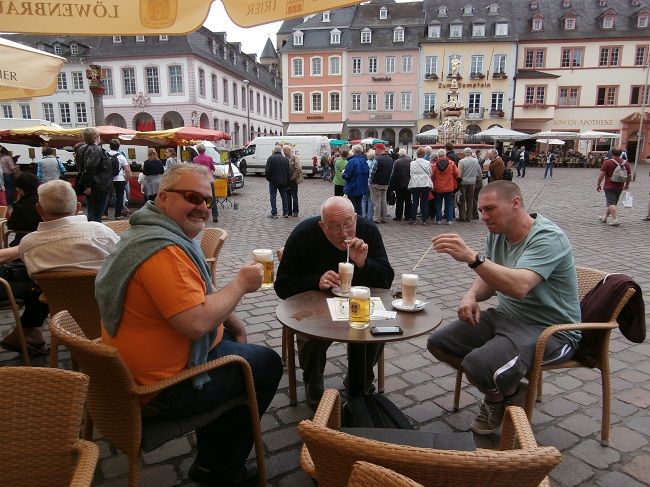 Chilling out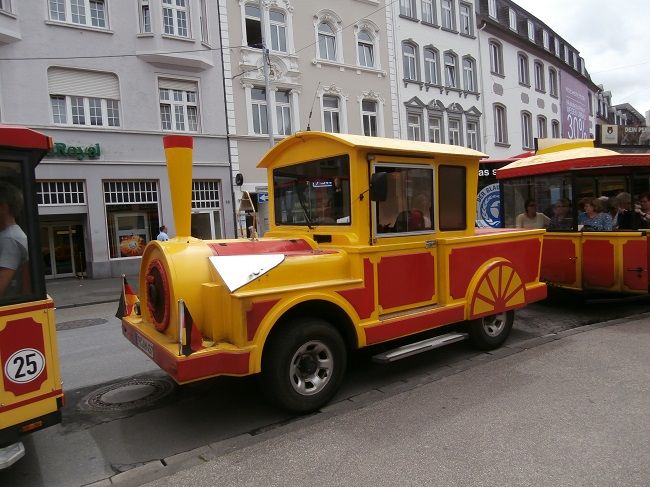 The Snaky Train…
The place certainly is impressive and is another German town that has been meticulously re-constructed in the post war period. The large Roman arch is the most complete outside of Italy apparently and the level of preservation is amazing for something that is even older than Keith Richards!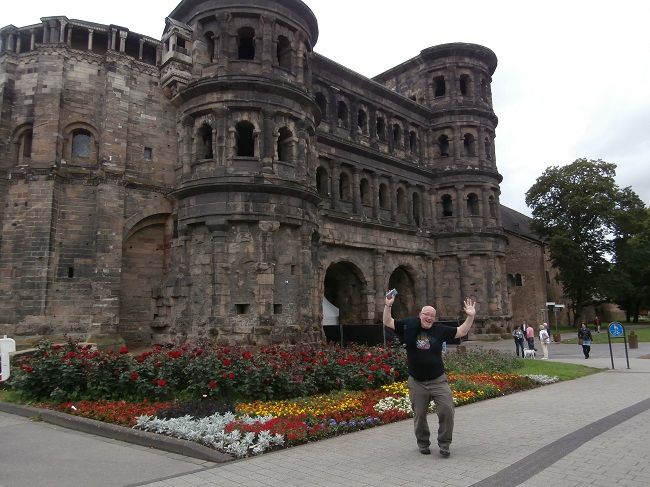 Geeg was certainly impressed with the Porta Nigra
Even our lunchtime burger in McDonalds was a little classier than usual as the Trier branch is located in a charming old building! This set us up for a look around the massive and heavily renovated Cathedral. Whilst it is a beautiful building Matt pointed out the restoration is almost too perfect and the place lacked a sense of history. Whilst this is true I rather suspect the building was heavily damaged in WW2 and they were faced with little choice other than to re-build it. They could of gone modern and 'done a Coventry' I suppose.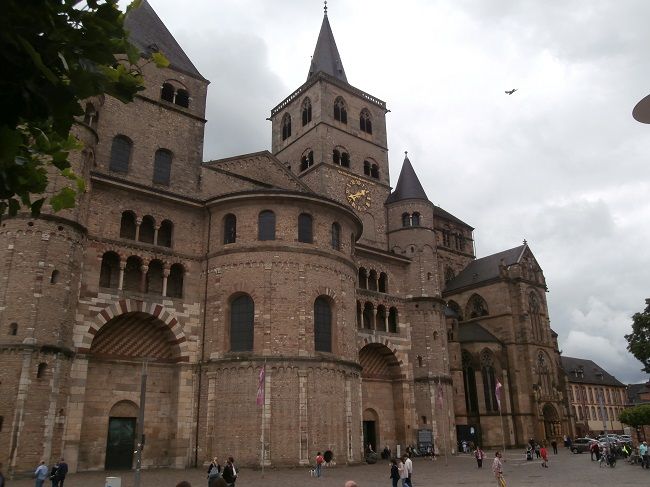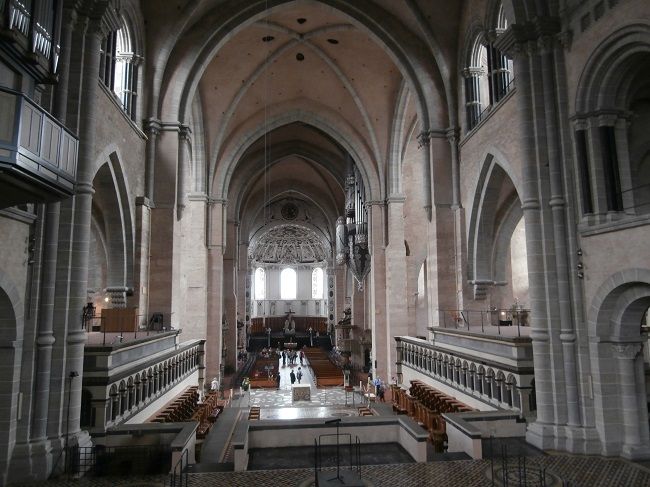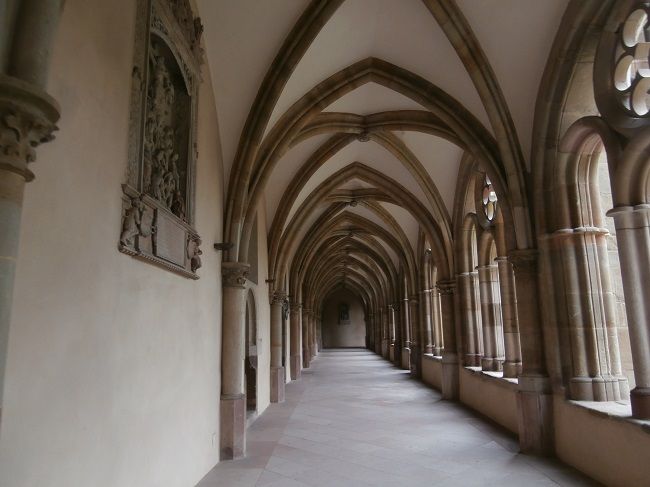 Stunning, but oddly lacking in atmosphere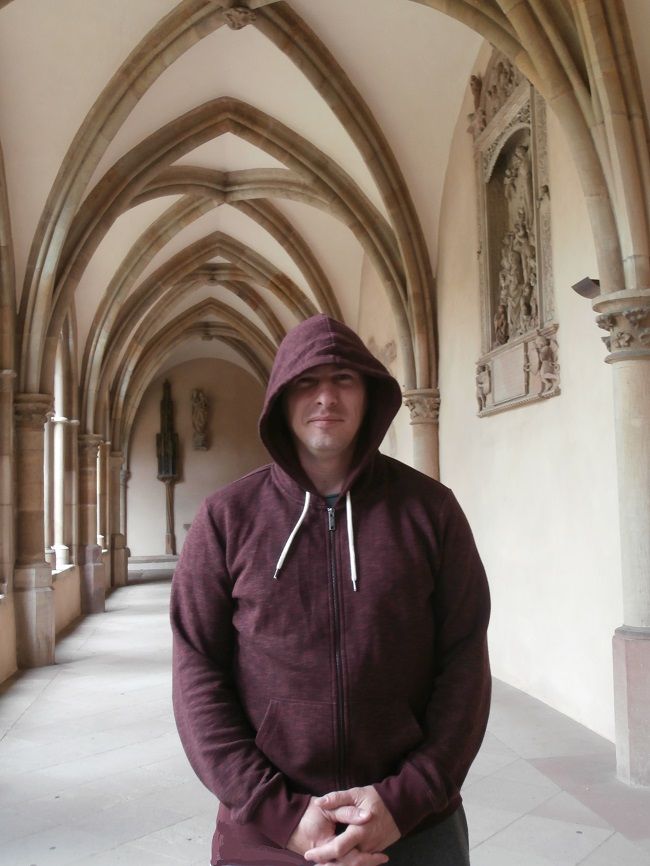 Brother Matt..,
So an interesting day immersed in the history of beautiful town. We rounded it off with a somewhat underwhelming boat trip on the Moselle river before heading back to our Hotel for the evening. The lady who ran the bar had definitely decided to adopt us and kept us well supplied with beer and excellent well priced food. She told us how slim and gorgeous she was in her youth and how she travelled on the back of bikes. I think she took a bit of a shine to Matt…I bet he slept with one eye open!
Day 6: Big Rockets and taking Lunch Aboard Concorde
So far for a biking trip we had spent a surprising amount of time on foot. But today the weather was ok and we headed out on the bikes. It felt good to be back on my 600 this morning as we set off to investigate the beautiful Moselle valley in the Eiffel region that surrounds Trier. This an area noted for its' fine wines amongst other things. Almost straight away we were greeted with some terrific strips of tarmac that offered a good mix between fast sweeping sections and places where the road twisted and turned. Geeg's confidence levels were increasing by the mile and over the course of the of the day he was going much quicker and riding more smoothly. He had had a nasty bike accident not long before this trip and had done really well to patch up his Thundercat and come with us. So it was really pleasing to see his confidence coming back gradually.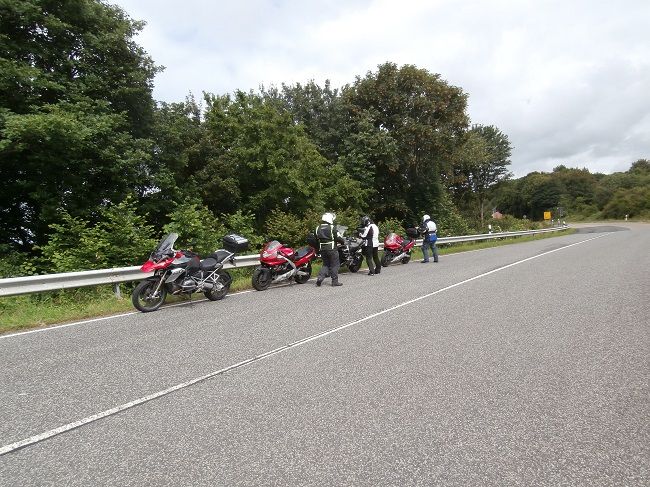 It was good to get back on the bikes
Relatively early on I was tucked in behind Andy and we rounded a bend we were greeted by the sight of a NASA Saturn V moon-rocket! On with the brakes! We had stumbled across what turned out to be a rather excellent aircraft museum. This is the joy of adhoc touring, this wasn't in our plans, we didn't even know anything about the place, but sometimes you just have to go with the flow!
The collection is massive and with a focus on types not often seen in UK air museums. There was a vast Russian helicopter that really stood out and a Dan Air Comet than my Dad probably flew in when worked over in Norway in the late 1970's. The place even had a replica Concorde complete with a cafeteria..so we just had to have a quick rest halt in there!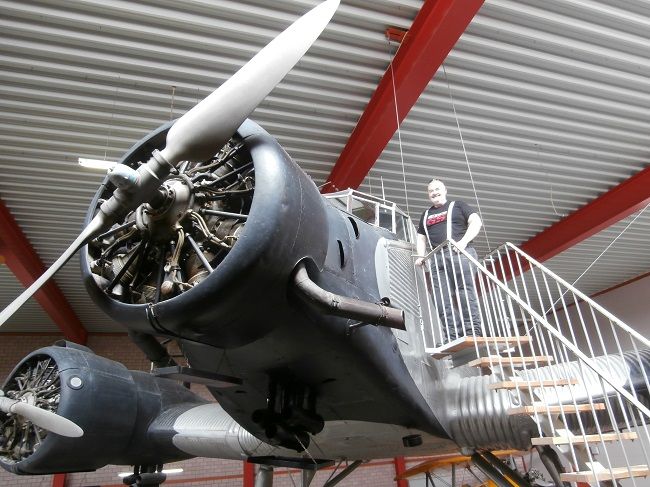 Andy checks out a Junkers Ju52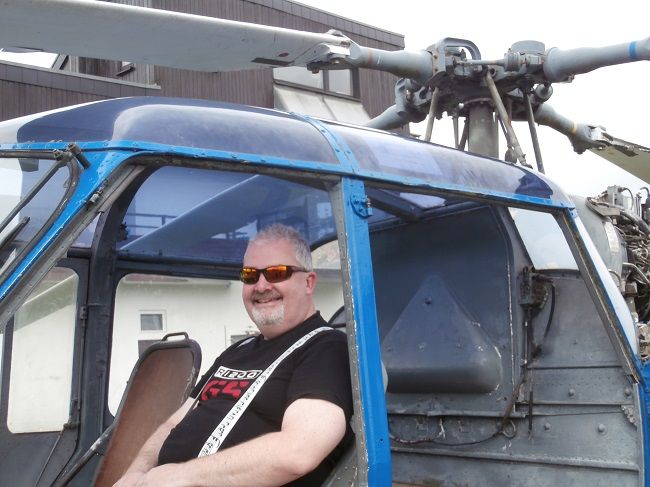 Although helicopters are more his thing, here he imagines going into a hot LZ in Vietf**kinnamyouweren'tthereman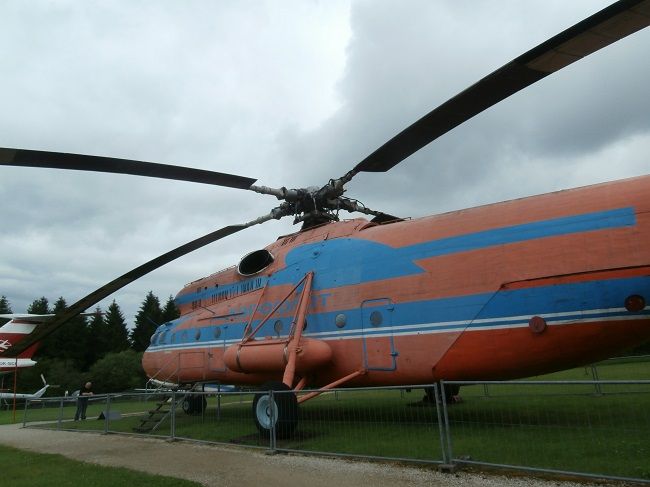 The huge Mil Mi-6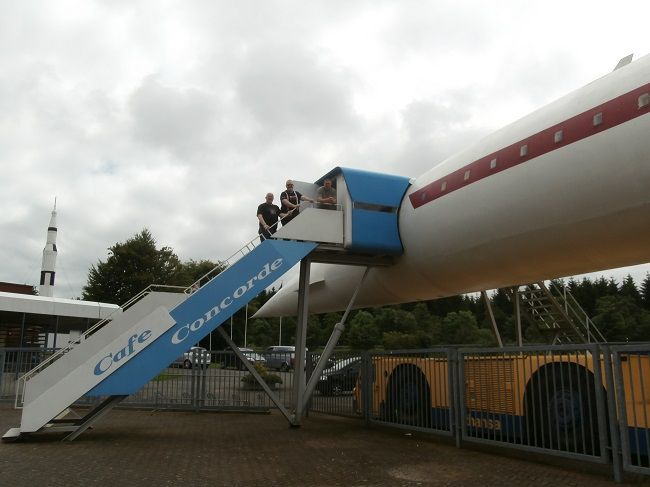 You can't beat a spot of supersonic luncheon! Note the replica Saturn V in the background!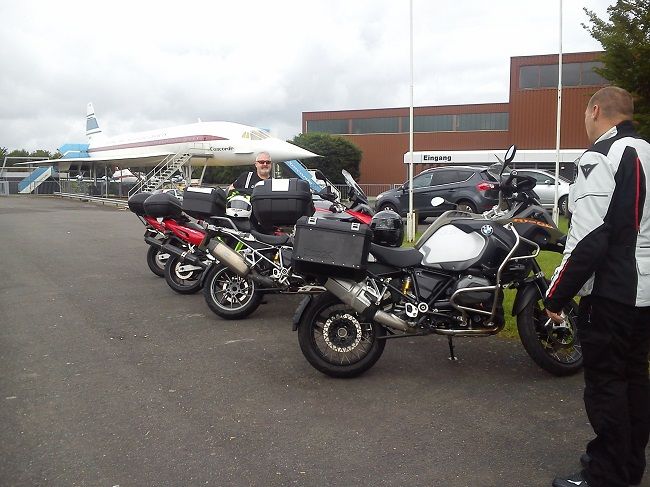 Impressive backdrop
Back on the bikes the weather steadily improved and the roads were still superb. The views were stunning and at one viewpoint there seemed to be a ski jump!

Mr.P checks out the stunning views, appropriately under the correct letter…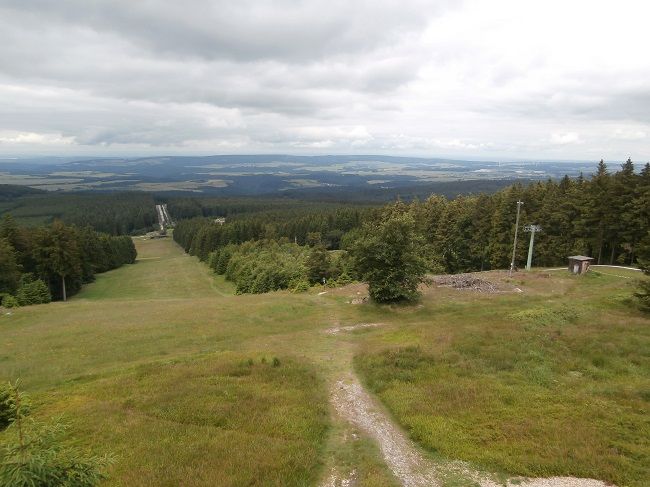 Ski jump???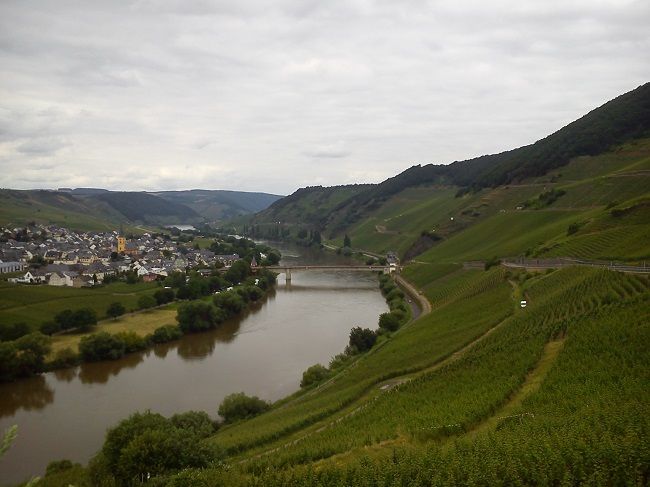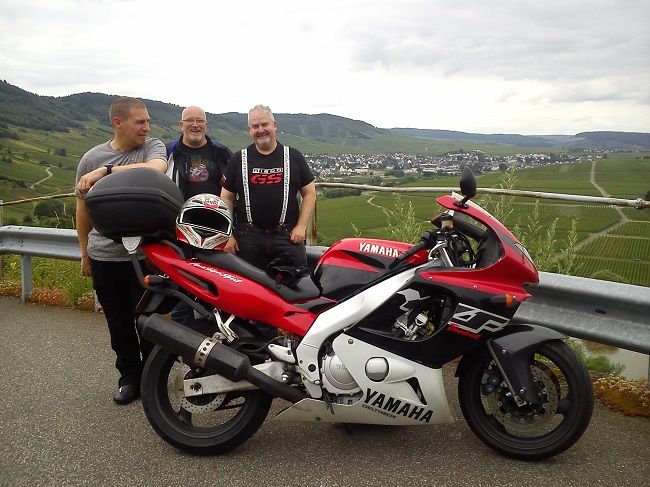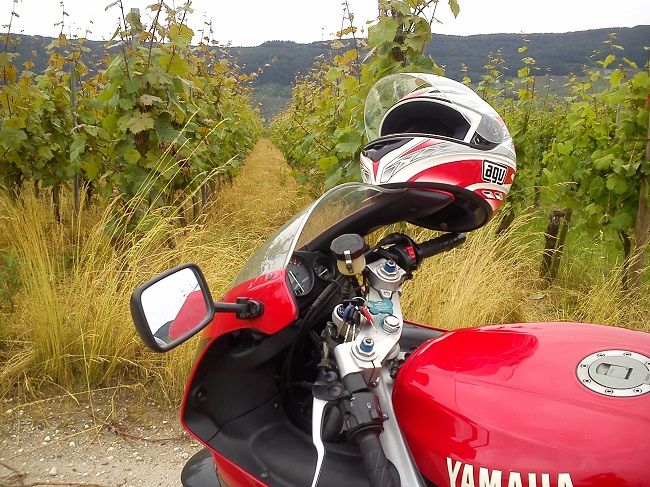 A beautiful region, well worth checking out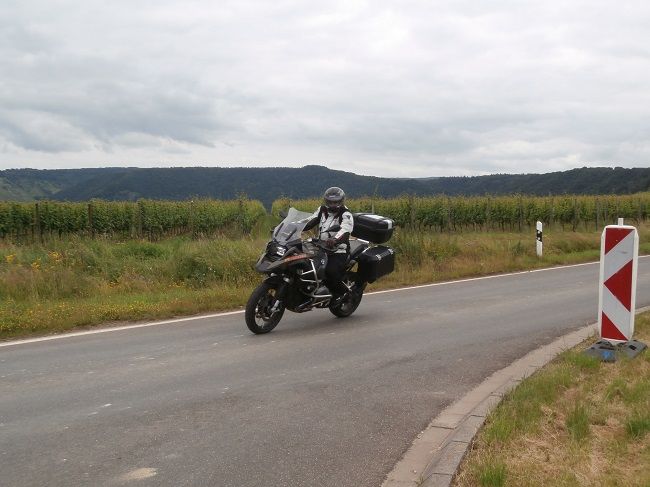 Matt was enjoying his first big adventure on his Adventure!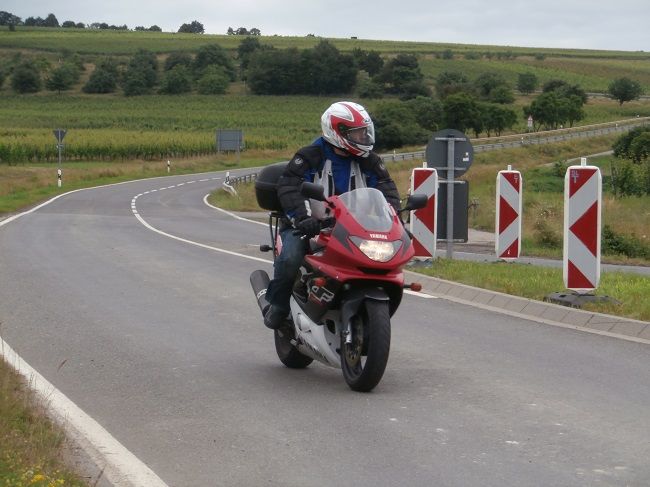 Geeg meanwhile was riding with ever more confidence
When we rolled back into Trier we had all enjoyed a good days riding and were ready for a nice cool beer on the hotel terrace. 'German-Mom' obliged and kept the lager flowing and she even picked and prepared our meals for us!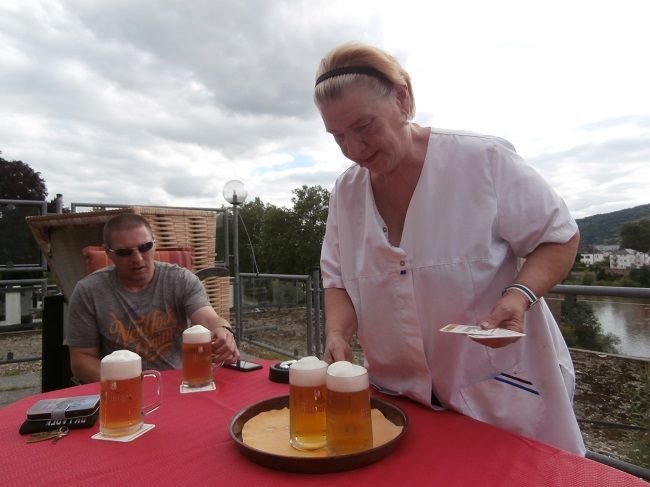 German-Mom kept the beer flowing, Matt always got served first…
The sun beating down, cool beer overlooking the Rover Moselle in the best of company.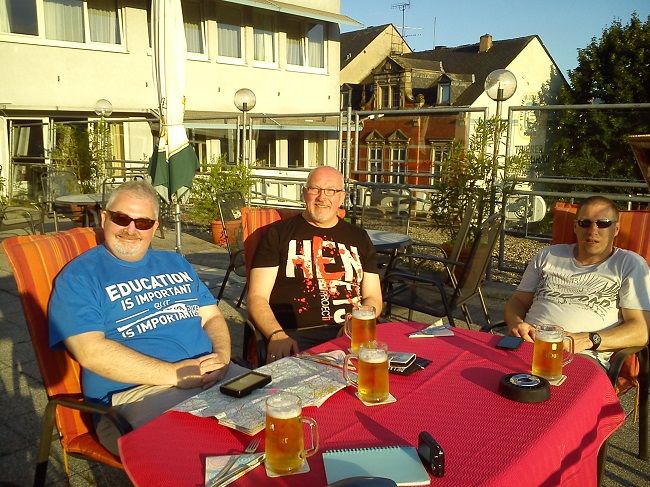 We were having a terrible time
Good times and no mistake….
Part 3 soon!
The educational bits:
Trier:
https://en.wikipedia.org/wiki/Trier
Porta Nigra
https://en.wikipedia.org/wiki/Porta_Nigra
Cathedral of Trier
https://en.wikipedia.org/wiki/Cathedral_of_Trier
The useful bits:
https://www.hotel-constantin.de/
https://www.flugausstellung.de/flugzeuge.html